Some people love it.
Some people hate it.
Hot desking in your office could go one of two ways. Or somewhere in between.
So, what's the key to a successful hot desking rollout?
Preparation.
In this guide, we introduce everything you need to know before you make a decision on implementing a hot desk environment in your business.
What is hot desking?
What is the difference between hot desking and desk sharing?
Is hot desking a good idea?
Advantages and disadvantages of hot desking
What companies use hot desking?
How do you make hot desking work?
Let's start at the very beginning.
What is hot desking?
Hot desking is a setup of office desk environments where anyone with a login can arrive and work without a pre-assigned seat.
It's different from a typical office environment where everyone has an assigned desk.
Staff members can arrive on any day, often without booking a desk, and work there for as long as they need.
You might see a hot desking area assigned for specific departments. This means any salesperson, for example, who is often out meeting clients, can attend the office and sit near their colleagues.
If they're not in the office for 50% of the week, there's no need for them to have a designated desk.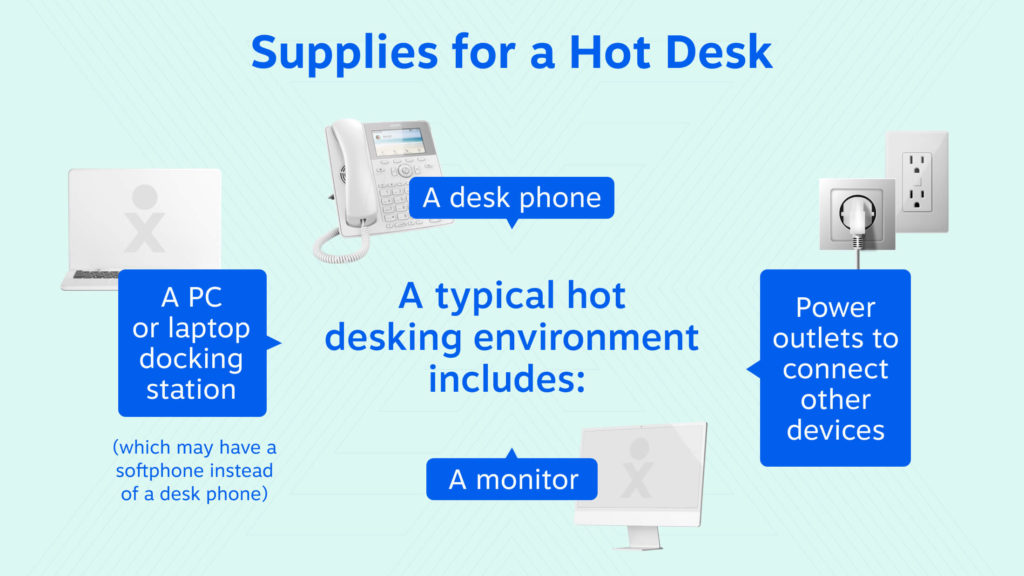 A typical hot desking environment includes:
A desk phone.
A PC or laptop docking station (which may have a softphone instead of a desk phone).
A monitor.
Power outlets to connect other devices.
Outside of these basic items at the desk, a hot desking office usually incorporates bookable meeting rooms, a communal printer, and other shared office facilities.
Why is it called hot desking?
The term, hot desking, is based on the saying "hot seat". This is used for guests on radio or TV shows where they are the focal point of the show for a limited period of time.
Often, they get posed uncomfortable or quickfire questions then get to leave. The short timespan makes the seat "hot".
Think of speed dating or playing hot potato. Neither activity lasts long, making them both "hot".
While you don't need to give up your seat immediately, you must clear it at the end of the day so tomorrow's hot desk environment is reset and anybody can choose where to sit.
Note: Some organizations used desk booking or desk sharing policies to manage semi-permanent hot desks.
What is the difference between hot desking and desk sharing?
It's important to understand that hot desking is not desk sharing.
Desk sharing is simply splitting use of a specific desk between specific people.
| | |
| --- | --- |
| Hot desking | Desk sharing |
| Desks free for anyone to use | Desks split between two or three people |
| Everyone clears the desk space after use | May leave paperwork for handover |
| Common areas for staff or members | Dedicated area for departments |
For example, Mohammed can use the desk he needs during the day and Julie can use that same desk when she takes over the night shift.
Effectively, Mohammed and Julie have dedicated workspaces during their respective shifts; but they are literally sharing the same desk.
Hot desking means that desk 123 in London is free to anyone.
Here's a basic example of hot desking in action:
Monday: Mohammed arrives at work and logs into desk 123 in the London office.
Tuesday: Mohammed flies to the San Francisco office and uses desk 456. In London, Julie is now using desk 123.
Wednesday: Julie uses desk 123 in London again. Mohammed is flying back to London so doesn't need a desk.
Thursday: Barry arrives early to work and logs into desk 123 in London. Mohammed and Julie both find alternative desks that are free.
Friday: 50% of the office work from home. Neither Barry, Mohammed, or Julie are in the office. The desks are free for anyone to use.
Desk sharing is ideal for split shifts within the same business. For example, a call center that provides 24/7 support.
All agents need a desk but not at the same time.
Hot desking is better suited for three main uses cases:
Shared buildings with common areas and workspaces for different businesses. Think of a WeWork or university campus.
Large businesses with staff who come and go on irregular patterns. Sales teams who are often on the road or staff who split their time between home and office.
Small businesses that don't need large real estate. If you only have 20 staff and only 10 in the office at any one time, cut desk space and save on costs.
Is hot desking a good idea?
Depending on your office layout, hot desking can be either transformative or difficult.
If you run a shared building, like a WeWork, hot desking is a great idea. Any occupant can arrive and log in to a desk with everything they need to start working.
Even when one business hires an entire office, you can provide a hot desking environment within that space. If every employee was attending the office every day, that company would likely rent their own office rather than a WeWork.
This makes hot desking the perfect fit.
If you run a building with only one business, hot desking can still work. In fact, hot desking is becoming more common as not everybody needs to come to the office anymore.
Whether you're a frontline worker who pops in once a week or a knowledge worker who works from home unless there's an important meeting, you need a desk but not all the time.
This is where hot desking comes into its own.
When considering hot desking, keep in mind these key things:
Do people work from home on a regular basis?
Will space get used if you create a dedicated hot desking area?
Do you need space for all your staff to hot desk on the same day?
How much money will you save by implementing hot desking compared to reserving an unused space for each employee?
Advantages and disadvantages of hot desking
While the advantages of hot desking are clear, it's only right to highlight some deemed disadvantages too.
| | |
| --- | --- |
| Advantages of hot desking | Disadvantages of hot desking |
| Enables hybrid working | Can cause capacity planning issues if not managed well |
| Enhances productivity | Humans resist change |
| Encourages a tidy desk policy | Lack of personal touch |
| Everyone has a seat if needed | Desk hogging |
| Reduces cost | Regular cleaning |
| Meet and socialize with new staff | May not sit next to work bestie |
While a lack of personal touch often feels like a disadvantage, studies show that a minimalist desk setup is more productive.
The 5S Lean Six Sigma principles, for example, suggest you should create and maintain a tidy working environment to thrive.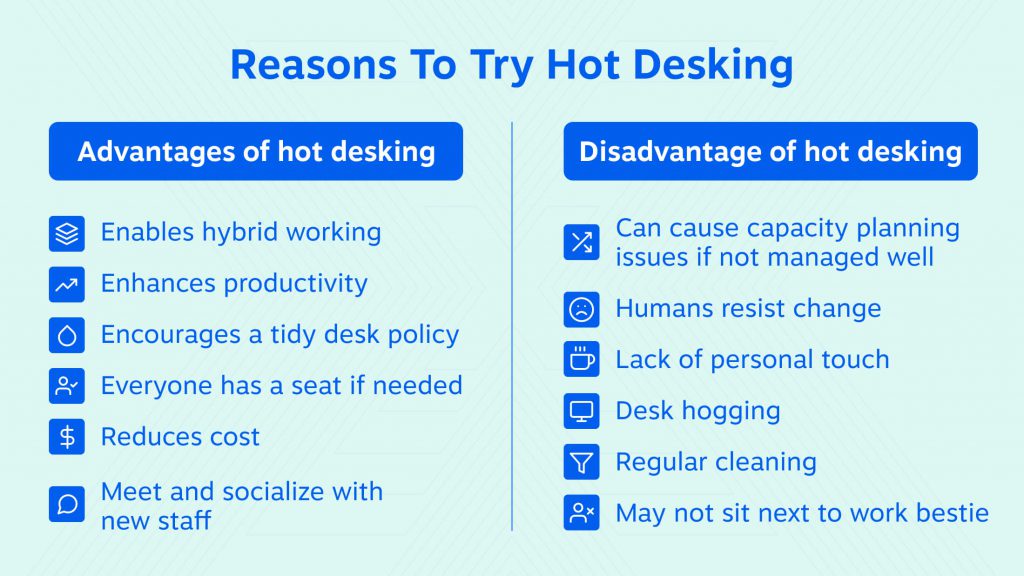 The 5S' are:
Sort: remove clutter and non-essential items.
Straighten: essential items stored in their correct place.
Scrub: keeping everything you have on your desk clean and tidy.
Standardize: document and share plans for any changes to your workplace.
Sustain: making the first four S' a habit.
Applying these to any working environment is productive. Hot desking enforces this mindset so nobody clutters their desk day after day.
What companies use hot desking?
Be it small companies with 10-20 staff or giant conglomerates, all sorts of companies used hot desking.
Maersk, the world's largest shipping firm with over 80,000 employees, has over 100 locations around the world. In its Maidenhead, UK, office, there are six floors all with hot desking capabilities. Each team, or block of teams, gets designated a floor so departments are near each other if needed.
While there is a static array of desks for the in-house IT team, the rest of the floor is open for anyone to take a new seat each day. Meeting rooms and private offices are used around the perimeter of each floor.
At the other end of the scale, StableLogic, a technology consulting firm with around 20 staff, has shared office space in a Regus building.
While most consultants spend time at customer sites, when they return to the Regus building, they have the option to either hot desk from their private office or sit in a common area and log in to a free phone.
Other well-known companies using hot desking include:
Deloitte
Microsoft
Credit Suisse
Citigroup
LEGO
National Australia Bank
We also see hot desks in coworking organizations like WeWork, Regus, and Green Desk.
How do you make hot desking work?
Hot desking is somewhat a personal experience. But you can apply some basic logic to make hot desking a success in your business:
Choose the right technology package.
Make it clear which areas are already booked.
Inform staff of the benefits hot desking will bring.
Document log in/out instructions and make public.
Communicate when you're moving to hot desking.
Remember that not everywhere needs to have hot desks.
Use a booking system for teams that need to sit together.
Use common areas and huddle rooms for group collaboration.
Create a set of house rules so everyone knows what to expect.
Plan for increased capacity when large meetings get scheduled.
Embrace remote working so hot desks don't become permanent desks.
Allow temporary personalization (clear up at the end of the day or after the booking).
The best hot desking policy is worthless if the technology supporting it isn't best in class.
Ensure PCs or docking stations are up to date and can handle workloads from different work types.
Make sure they have either softphones installed or that you provide physical handsets.
As we've entered the era of cloud-first communications, you'll want a cloud phone system (VoIP) powering your hot desks.
Spend time on the culture and policies, then choose the right technology provider.
If hot desking is right for your business, ensure it's supported by the Best VoIP Phone System of 2022.